Background
I like to

ride bikes and

cycled

to work

both summer and winter

for many years.

It's

good exercise,

cheap and

also good for the

environment.

However, it is

quite uncomfortable and

a little bit dangerous

, at least

in winter.

With

studded tires

and

rain gear

it works

quite well ofcorse,

but it

's not always so

funny

.

I have long

wondered

if it wouldent

be possible to make

a

more comfortable, safe and weather prof

bike

.

The first

idea was

inspired by

alpine

sitskiers

;

a two-wheeled

recumbent bik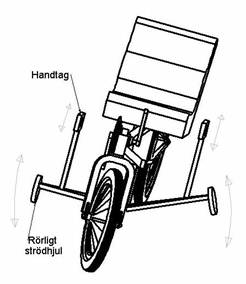 e

with

a movable support

wheels for

each arm

who

could

help balance

the bike

, but I

never got it

to work well

.

It feels like

you

are a little bitt to

weak

in the arms

for

it to work well and feel

safe

.

The experiments

ended with

me

built

a three-wheeled

recumbent bike

with two

front

wheels

and one rear.
This one I drove for a couple of years until I started working further from home. It then became too long and sweaty to ride the slightly heavy tricycle. The next test was to build a two-wheeled recumbent bike, it was easier and faster and worked well during the summer. But it instead became too unstable and difficult for winter cycling.
Next test was a purchase of an electric bike with a 250W electric motor integrated in the rear wheel. It went both easily and quickly and was really funny. But when you go faster it´s also colder and slipperyer especially in winter. It felt better than the two-wheeled recumbent but still sketchy.

You should

sit on a proper

seat with

padding

You

 

should have

suspension

You

 

should

have a stable

solution (at least

3 wheels

)

You should

have a small

auxiliary engine

You should

sit

at the same height

as

in a car
New

prototype
Based on the conclusions above and my experiences I have constructed a new craft. It is a four-wheeled recumbent bike with cloth body, suspension and auxiliary electric motor.
Invalid Displayed Gallery
I chose four wheels instead of three although it gets a little heavier, so as to make it as small and thin as possible. I think this fact is crucial to use the existing bicycle routes and  for storage, parking and transport with other vehicles. The sitting position should be like on a recumbent bike to get a comfortable chair and to bring down the center of gravity. The seat height should be that of a passenger car to see and be seen in traffic.
It is equipped with air suspension both front and rear. This may sound luxury and unnecessary , but a drawback to sit in a chair is that you become more sensitive to larger bumps and curbs. A cyclist stands up quite natural to respond to a bump. The choice of the electric motor falls on a 250w's brushless electric bicycle hub that is powered by a lithium battery. This is because they are available as complete kits at a good price and that the vehicle then still be classed as ordinary pedal bike. (= No driver's license, no tax, no insurance)
The body is made of fabric on a frame of aluminum tubing and plastic windows. It will be a both light and inexpensive solution that also can be easily manufactured in different versions: sporty, elegant, cute, cabad, and so on. but with the same base plate.
Invalid Displayed Gallery